Follow my blog with Bloglovin
When I created my baby registry, I did a TON of research. I read every blog and pin that I could find, I looked through pregnancy magazines, I looked at registry examples, and I asked other parents for advice. Overall, I feel like I had a pretty good handle on what I wanted and needed for baby.Now that I have had 6 months to see all of these items in action, here is my two cents.

I created a "New Baby Checklist" to make sure that our home was baby ready. Feel free to edit this spreadsheet to meet your personal needs.
*Please note this post contains affiliate links. See sidebar for more information. 
I had registries on Target and Amazon. I chose Target and Amazon because you get a welcome kit from each and both have a 15% completion discount. At Target that is good for one trip to the store and one purchase online for ANYTHING on your registry. Keep that in mind when you register and make sure to sneak a few items for yourself on there even if they are only semi-baby-related. I suggest things like coffee, laundry detergent, household cleaners, nursing bras/tank tops, and parenting books.
Now, here is my opinion about nearly every item on the New Baby Checklist.
General Baby Care
Baby Wash/Shampoo
Here are a couple that we've used. I loved them both.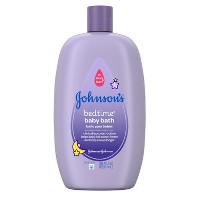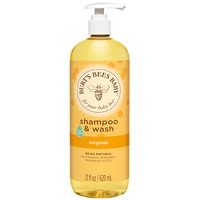 Johnson Bedtime Bath            Burt's Bees Baby Shampoo & Wash
Lotion
At first we really liked using calming lotions, but recently our doctor steered us away from lotions because they contain too many alcohols and can be drying. Lotions were contributing to our son's excema, so we switched to this cream. It makes his skin feel noticeably softer and doesn't cause bumps.


Aveeno Baby Soothing Cream
Thermometer
The forehead thermometer is great for a quick check to make sure that baby doesn't have a fever. The problem is that a doctor or nurse will tell you that it is not very accurate. If you do get one, you will want a regular thermometer to use as well.
We have this forhead one:


Safety 1st Forehead Thermometer
Baby Powder
Now here is where things get a little controversial. I have seen plenty of research telling moms not to use baby powder because it has been linked to respiratory problems. Obviously, this is a very serious concern! I do still use baby powder because my baby's skin reacts much better to the powder than it does to diaper rash cream. It helps to keep him dry and clean in his leg creases. I am just very careful to not get the powder near his face. I tip the container over to spill a little bit of the powder into my hand. Then I use my finger to dab it onto baby's skin.
I love the Burt's Bees Baby Dusting Powder. It is all natural and smells great!


Burt's Bees Baby Dusting Powder
Kneeling pad for bath tub
This is one of the items that falls into the category of wants and not needs. We have this mat from Amazon and I really like it.


Aquatopia Deluxe Safety Easy Bath Kneeler
Extras
Things like Baby Tylenol, gas drops, outlet covers, teething toys, baby gates, and drawer locks you can just get as you need them. I added all of these things to my baby registry because I figured it wouldn't hurt to have them already in stock. (if no images appear below, refresh your page.)
               
Clothing
Everyone loves buying baby clothes, so you don't really need to register for them. If you are worried that you won't get enough clothing, just add a few basics to your registry – onsies, pajamas, socks, bibs. Babies don't need anything fancy, but people will still buy you the cute stuff. 🙂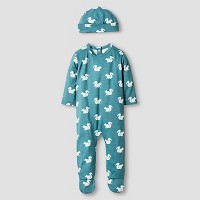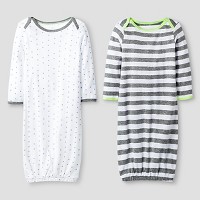 You will probably want to get a sleep sack or swaddler depending on the time of year that baby is born. This is important since you shouldn't use loose blankets in baby's crib.
Our 6-month-old is still sleeping in this one (in a different print…but the same thing, size small) every night:

Halo Sleepsack
Remember that once baby can roll over, you should leave his/her arms out and just velcro around the tummy.
Laundry Detergent
There are a lot of baby-specific laundry detergents on the market, but I personally don't think they are worth the money. You want to use a scent-free, dye-free detergent for baby's clothing, your clothing, and any blankets that baby will use. You don't want baby to be allergic to your snuggles because you use a different detergent for your laundry.
Here are options for liquid, powder, and pods.
         
Diapers
We used disposable diapers, so my list is going to skip over everything that you will need if you chose to go the cloth route. I had 2,051 diapers before my son was born. I will write another post on creating a diaper stockpile later. For now, just note that if you get diapers as gifts ask for gift receipts in case you end up with too many of one size or you don't like a specific brand.
Diaper Pail and Liners
My husband and I disagreed on whether a Diaper Genie was a complete necessity or not. We did end up getting one, and it is great at keeping the smell in. I would call it $25 well spent.
We have this version:

I use Up&Up brand liners because they are cheaper.
Wipe warmer
I know…this sounds ridiculous. I had a mom tell me while I was pregnant that I need a wipe warmer because anything that will keep baby from screaming in the middle of the night is worth the investment. Apparently a cold wipe during a three am diaper change will make baby scream. I wouldn't call it a necessity, but I do like my wipe warmer. I think the warm wipes do better at cleaning and obviously they feel better on my skin and baby's.


Munchkin Warm Glow Baby Wipe Warmer
Feeding
Your needs for feeding will depend on if you breastfeed or bottle feed. Be prepared that your plans may change once baby is born. I do not recommend stockpiling formula because your baby may have specific dietary needs. Here is a list of feeding basics to get you started.
Let's start with the breast pump because it will lead to more…
Your health insurance must cover a breast pump, so look into this before you do anything else. If you are having trouble finding this information, just call and ask. You want to know what kind of pump you will be getting as well as when, where, and how to get it.
Bottles
Here is part of why you wanted to know what kind of breast pump you will have. I would suggest getting bottles that can hook up to your pump. I had this set from Medela plus extra bottles for storage. It will cut down on dishes if you can pump, store, and feed from the same containers.


Medela 3pk 5oz Breastmilk Bottles
Other than a set of those, I would skip the little bottles altogether. Our son outgrew the 4/5oz bottles by about 2 months old, and you can always put less milk in a bigger bottle.
We LOVED these Dr. Brown bottles. They help cut down on gas and spit up, and the nipples never get sucked in and stuck like some bottles do.


Dr. Brown Natural Flow Bottle
Burp cloths
You can never, never, never have too many burp cloths when you have a baby. They don't need to be anything fancy, they just need to be absorbent. The same goes for bibs, especially once baby starts teething. Cloth diapers, dish towels, and swaddling blankets all make great burp cloths.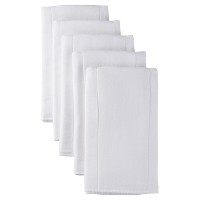 Nursing pillow
When I made this list for myself, I left the nursing pillow labeled as a want. Now, I can't imagine not having a Boppy with our newborn. It was great for nursing, bottle feedings, and as a place to lay baby. We kept our newborn inside of his Boppy on the couch or floor anytime that he wasn't in our arms. As a six-month-old, he sits inside of it while he is learning to sit on his own. We also inherited a second cover which was great for laundry.

Bottle Warmer
I skipped this one. From what I've read a bottle warmer doesn't work any better or any faster than heating up a cup of water in the microwave and letting the bottle sit inside of the water for a few minutes.
Nursing Bras
I spent the money to buy a couple of good, underwire nursing bras while I was pregnant. After giving birth, I hated them and didn't ever wear them because they didn't fit well. I would recommend the softer, more comfortable styles that fit like sports bras. This one was my favorite.

Nursing Pads
I didn't like the idea of disposable nursing pads because they are not cost-effective or environmentally friendly. I bought two packs of these. Think about how often you want to do laundry to decide how many to buy. Plan to go through at least one pair per day.


Avent Washable Nursing Pads – 6 ct.
Sleeping
Bassinet/Crib
This one is a matter of personal preference. Some people like to have baby in Mom and Dad's room to start out with. We put our son in his crib from day one. The only thing that matters is that baby has a safe place to sleep.
Sheets and Sheet Liners
In the beginning, we had trouble with our son leaking through diapers at night. Fortunately, a friend gave me this piece of advice: layer baby's sheets. His mattress was layered waterproof liner, sheet, waterproof liner, sheet. That way I could just pull off the top layer when he wet through at night.
Also, I was paranoid about my water breaking and ruining my mattress when I was pregnant. I ordered this sheet protector that I used in my bed and then moved to baby's crib once he was born.


Priva High Quality Ultra Waterproof Sheet Protector
Blankets
These are another thing that you can probably leave off of your registry. You will likely get plenty! Just make sure that you have a few swaddling blankets.
Baby Monitor
We like this one.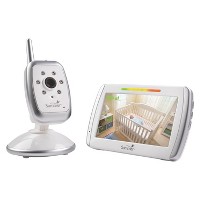 Summer Infant 5 Wide View Baby Monitor
Pacifiers
These are all a matter of parent and baby preference. Our son was entirely dependant on the Nuk brand pacifiers when he was a newborn. If you do use pacifiers, attach them to your baby when you go out in public. A few of these will save you a lot of trouble.
             
Travel
Travel System
We were fortunate enough to be hand-me-downed a Chicco Keyfit Travel System. We have a car seat with two bases and a stroller that it fits into, and it is absolutely fantastic! The car seat is a great place to keep a sleeping baby when out and about. I think the Cortina is the closest one that is still available at Target.


Chicco Cortina CX Travel System
Baby carrier
I know a lot of people who are big fans of babywearing. I personally don't do it around the house. I think part of that is because the carrier that we have does not work for a newborn. I am going to share it here anyway because it is very lightweight and portable, so I think we will use it a lot more this summer.

Bouncy seat/swing/rocker
I skipped these items, but I know a lot of moms who swear by them. I do know that when I take Peanut to the gym, they leave him in a swing or bouncer and he just sleeps the whole time that we are there.
          
We did get a bouncer like this one below as a hand-me-down and Peanut loves to jump in it.


Little Einstein Activity Jumper
Baby Furniture
Baby furniture can be as simple or as decorative as you want it to be. I was very lucky that my mom lent my brothers' baby furniture to my cousins with the condition that my aunt and uncle keep it all until I wanted it. I received a crib, mattress, changing table, and dresser out of this deal. It's all a little beat up after going through 5 babies, but it is a really great furniture set. I would recommend hand-me-downs or buying used baby furniture to anyone! Just think about how short an amount of time each baby will utilize their furniture. In all cases, make sure that you check that furniture is safe for baby!
Shop Used and Discounted
On that same note, I am a huge advocate for buying used baby gear in general. Things like bottles, hygiene products, and a car seat you want to get new for safety reasons, but other than that save yourself some money.
I bought a lot of my maternity clothes from swap.com. They have a lot of baby stuff as well. If you use this link, you receive 20% off your first order.
You can also use the site to sell your gently used clothes, books, toys, and movies.
Shop here.
I see baby clothes and other baby items listed on Facebook free and for sale pages all the time. Consider posting in your local groups to find things that you are looking for to save some money.
If you are looking for more ways to save for baby, check out Amazon family! You get 20% off diapers when you use subscribe & save. Check out my Mach Subscribe & Save Order here.

You should also consider getting a Target RedCard. You receive 5% off of each order and they even have a debit card option. Target's website subscription service is the only way that I buy formula. Learn how and why here!
This post is linked on: